(L-R: John Prichard, James Percy, Eric Burkhart, Steve Epstein, Alan Novidor)
"Little Buffalo plays Rhythm & Country, and funky Rock & Roll, with a whole lotta laid-back, swampy Americana soul!" - Reverb Nation
Little Buffalo is: songwriter and bandleader Eric Burkhart, audio engineer Guy Lento, and the fabulous and talented David Wilbur on all things art-wise.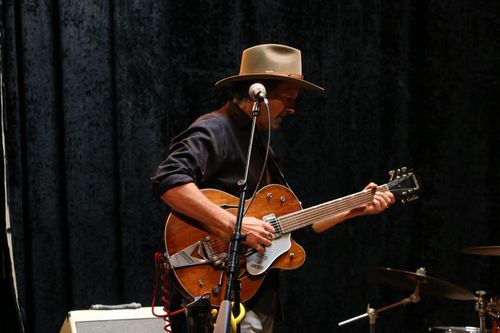 Eric Burkhart is a fourth-generation SF Bay Area native, born in San Jose, CA and currently living in Berkeley. He absorbed many styles of music and art growing up, including some of the seminal artists that shape his songwriting and the sounds of Little Buffalo: J.J. Cale, Mark Knopfler, Creedence Clearwater Revival,Merle Haggard, Bob Marley, Gram Parsons, John Prine, Mad Magazine, Monty Python, and the Three Stooges, to name a few.
Eric learned to play snare drum, starting on kitchen pans and the dinner table, then with a marching band at age 7 (thank you, Ringo!)  He then took up saxophone (cheers to Cannonball Adderly!), and towards the end of high school, guitar and drums (hoping to meet some girls, of course).
At the suggestion of a high school bandmate, as well as through the guidance of his English teacher/mentor, he started writing songs that would work well with his baritone (1 octave, maybe!) vocals. 
Although Eric has played in and around the Bay Area for many years, it wasn't until the creation of Little Buffalo that he began to find the "sound" he'd been hearing: music that has a strong rhythmic center, but is soaked in killer riffs and uses melody, harmony and storytelling to evoke wide-open spaces, human stories, and a laid-back, funky good time!
EB won a song-writing contest through an East Coast radio station (WWUH - Hartford, CT) back in 2000, which jump-started his desire to turn his newly-aquired home basement into a recording/rehearsal space. He eventually wrote, recorded, mixed and released his debut album as Little Buffalo (along with his musical partner, audio engineer Guy Lento - see below) in 2016, and has been rehearsing and performing locally since then with a stable of talented bandmates. 
He is currently writing and recording new material and figuring out what LB's next moves are in the midst of current affairs. Stay tuned!